Oddly enough it all started with a tweet and a blog that didn't stem from either Kara or Mike! Back in June 2013, author Jon Acuff STARTed (shout out to our #STARTSingles friends!) a huge social media experiment that challenged 2,000 people to make a change to their lives and begin something new! Little did either of them know that answering that tweet would lead them to finding their future spouse. Almost as soon as the initial #Start community was established, a singles Facebook page emerged and it probably goes without saying that the rest is history. That summer will fondly be remembered as a time that involved late night Google hangouts with new friends, perpetually depleted phone batteries, and the "start" of lifelong friendships!
Mike and Kara quickly became close friends and a couple months later decided to give a long distance relationship a try. For 9 months they spent countless hours texting, calling, and Facetiming every night! Kara confesses that she actually had to change her cell phone plan to accommodate unlimited talk minutes because they spent so much time on the phone!!! Things were going really well and they were falling in love. Of course, the more time that passed the longer the distance between Pittsburgh and Brigantine seemed. So in October 2014, Mike made the move to Pittsburgh to be closer to his girl. A huge thank you to the Boatwright family for opening up their home to him so that we could be together!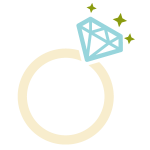 On Christmas Eve, Mike popped the big question. Kara nearly knocked him over as she answered the most emphatic "yes!" that will ever be spoken! (Keep in mind that the poor guy had been holding the ring in his pocket for hours as, unbeknownst to him, Kara would randomly end up going shopping that morning!) It was a moment they will never forget!
---
As the wedding day draws near, they are both so excited to be married!
---